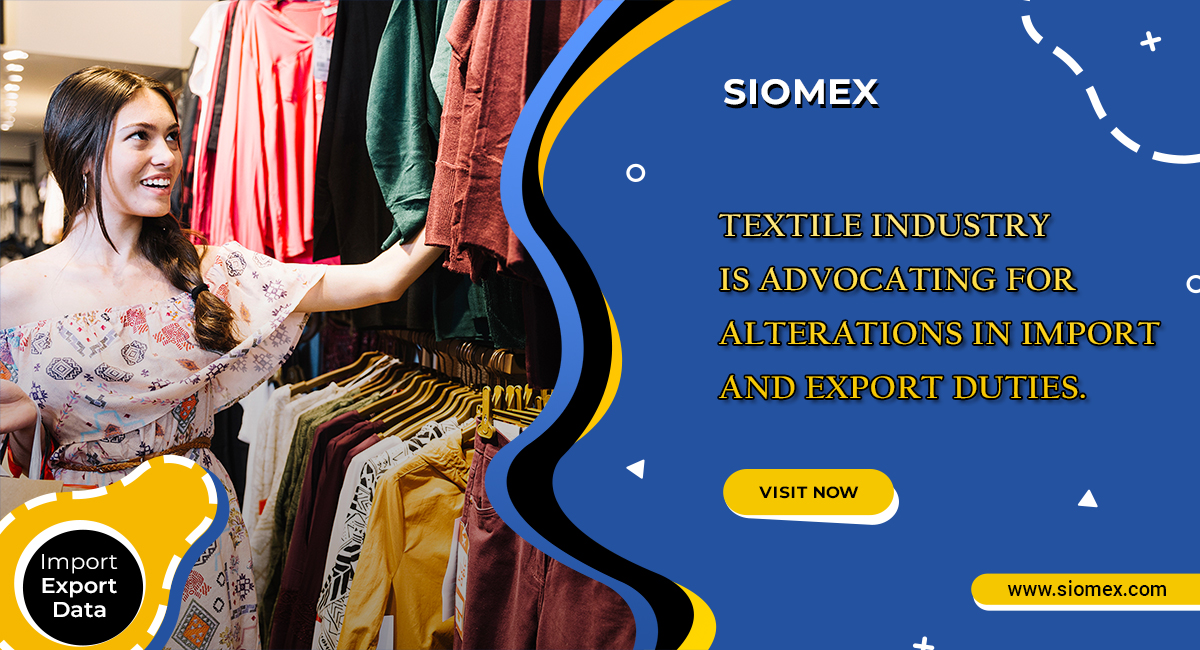 Textile Industry is Advocating For Alterations In Import and Export Duties.
The Indian textile industry is a very important sector in the India's economy which is currently facing many challenges.
There are many varieties like cotton stocks,changing prices and rising input cost these issues are few things that affect the industry's competitiveness.
If you are someone who want to know about the textile industry angles for changes in import export levies .
In this blog we will look into some challenges and the key demands of the textile industry as it looks to the budget for support and solutions..
Challenges Faced by the Textile Industry
1. Shortage of Cotton and Price Volatility: The Indian textile industry heavily relies on cotton as its primary raw material.
When there is shortage of cotton that too with high prices leads to some extra pressure on manufacturers.
This shortage not only reduce the cost of production but it also helps in increasing the cost of production that can impact the prices for consumers.
2. Lower Export Demand: Global demand for textiles has decreased mainly because of some reasons due to economic uncertainties brought about by the COVID-19 pandemic.
The textile industry has faced a substantial setback with a decrease in exports.
To regain its competitive edge in the global market the industry requires measures that boost export demand.
3. Mild Domestic Demand: The textile industry is not only dependent on exports it also relies heavily on domestic consumption.
Unfortunately mild domestic demand especially in rural markets has added to the industry's woes.
4. Increasing Input Costs: The rising fuel prices and other input costs have created a blow to the textile industry's bottom line.
These escalating costs further decrease the profit margins which makes it challenging for manufacturers to remain competitive.
Key Demands from the Budget
1. Incentive Scheme for the Textile Value Chain: It is important that the budget introduces an incentive scheme that covers the entire value chain.
This scheme offers a financial support and incentives to textile manufacturers and ancillary industries.
2. Cotton Price Stabilization Fund: The establishment of a cotton price stabilization fund is a paramount demand.
This fund would serve to mitigate the impact of volatile cotton prices, thereby stabilizing production costs and making Indian textiles more competitive in the global market.
3. Replacement of ATUF with a New PLI-Type Fund: The Textile Upgradation Fund (ATUF) needs an overhaul.
The industry proposes the creation of a fund similar to the Production-Linked Incentive (PLI) scheme to encourage technological advancements and ensure the industry remains globally competitive.
4. Clearing Pending Cases under ATUF: Addressing the backlog of 40,000 pending cases under ATUF is essential to streamline the industry's growth and development initiatives.
5. Removal of Import Duty on Cotton: A major concern for the textile industry is the 11% import duty on cotton.
Eliminating this duty would enhance the industry's global competitiveness by ensuring a consistent and affordable supply of raw material.
ConclusionIf you are looking for more such news and information related to the trade then you should vsit Siomex .